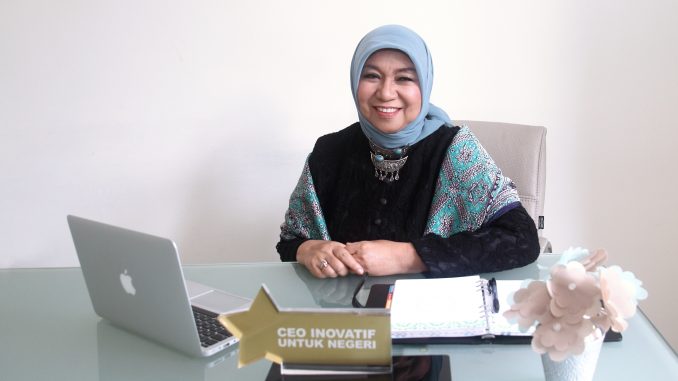 The figure of Nurhayati Subakat is one of the successful female business people in Indonesia. He is the founder and owner of a well-known cosmetics brand, Wardah Cosmetics. At present Nuhayati Subakat is the CEO of PT Paragon Technology and Innovation, a company that manages Wardah cosmetics brands, Make Over, and Princess hair care and IX.
Having a background graduating from the Bandung Institute of Technology, majoring in Pharmacy, made Nuhayati Subakat work as a pharmacist in one of the hospitals in the city of Padang. After a long time working at the Hospital in Padang Nurhayati decided to move to the capital city of Jakarta.
Armed with a Bachelor's degree in Pharmacy Nurhayati Subakat enrolled in a cosmetics company and became a quality control staff.
In the cosmetics company Nurhayati's career was in fact quite brilliant and fast, but with determination and determination Nurhayati decided to go out and open her own business armed with her experience in a cosmetics company.
The first business performed by Nurhayati Subakat was making shampoo with the Princess brand. Produced in his home and introduced at salons in Jakarta, the products are proven to be accepted by the community.
Even though it is a home industry, its business is growing rapidly thanks to carefulness in seeing market opportunities. the company's finances then continued to increase. He even established PT Pusaka Tradisi Ibu in managing his shampoo business.
The burning of his factory made Nurhayati Subakat's business have made this inspiring woman think again to start a business in the middle of a business debt that had accumulated.
With determination and consistency in struggling to build his own business, Nurhayati Subakat then created a new factory with venture capital from her husband's savings.
His new factory finally stood out from operating again, besides that he then tried to make new innovations by aiming at Muslim consumers who finally launched a product which became known as Wardah in 1995 and also began to enter the makeup market.
Wardah cosmetics products are intended for Muslims who want to look elegant without worrying about product halalness because wardah products prioritize halal principles, are safe and have excellent quality.
Wardah Cosmetics made by Nurhayati Subakat were quickly accepted by the community, especially the Muslim people. proven in 1999 to 2003, Wardah's cosmetic product sales surged dramatically. Quickly, Wardah managed to become one of the selected Muslim cosmetic products for Indonesian women.
Good market strategy and promotion accompanied by strong management make this Wardah Nurhayati Subakat product quickly dominate the national cosmetic market. The product distribution is not only national, but also goes to foreign markets such as Malaysia, where Wardah products sell well in the country.
Nuhayati Subakat is also one of the successful female entrepreneurs in Indonesia included in Forbes Asia in the Woman in Business 2018 list.