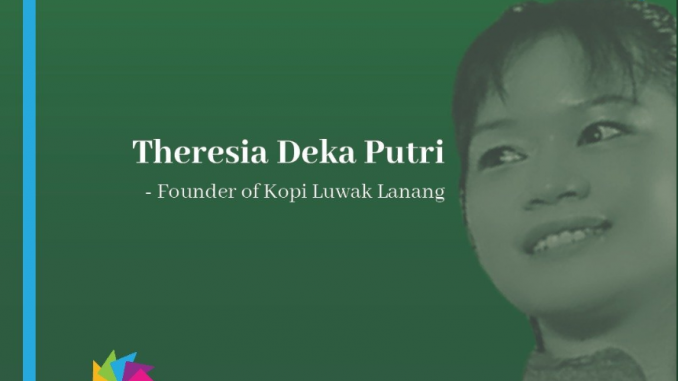 The development of the coffee industry in the country in the past 10 years has shown significant progress. This development can be seen from the increasing number of processed coffee produced by the coffee processing industry.
This is very possible, considering that Indonesia is the third largest coffee producer in the world. The coffee industry which is currently flooding domestic businesses is very varied, ranging from the scale of home industries, national and international scale.
Processed coffee products are currently not only in the form of ground coffee but many are innovated in the form of processed coffee. One of the most famous in Indonesia is civet coffee.
As a business beginner at the time, Theresia Deka Putri was considered not playing games, because she reached up to Rp. 200 million. But the capital produced encouraging results, far greater than the initial capital. True, the enthusiasm of Theresia Deka Putri is extraordinary, she puts her trust in civet coffee which will have a chance at that time.
As a young businessman who became a role model for many people, he started his business from scratch. Before building his own business, Theresia worked as a retail sales force for tea and coffee. And in 2007 he realized his determination to do business in the field of coffee, especially civet coffee.
At that time, he hoped that the target market he would pursue were prospective buyers who had thick bags and were fond of premium coffee.
Initially, Theresia Deka Putri studied various things about civet coffee; then he learned and also practiced immediately after. Theresia Deka Putri started her business through CV. The Universe. And until now the company has produced 3 brands of coffee. At that time in 2008, Teresa and her team made a simple coffee processing business. Very simple, even the grinding process was entrusted to places that offered grinding services.
Once, Theresia thought of producing coffee herself and removing the supplier. He has the desire to have his own garden. The desire to have a mongoose itself also exists. And the fact finally led Theresia Deka Putri to own her own garden.
The garden is four hectares wide. But because of the increasing needs, Theresia didn't let go of her supplier. Theresia also developed partnerships with several coffee farmers in Bondowoso and Malang. Apart from the increasing demand for coffee, he continues to sell products from suppliers as an effort to provide product variations to consumers.
Theresia had studied in Management, no wonder the management of the business was so neat and mature. It didn't take long, just a few years after producing and selling Luwak coffee products themselves, Teresa managed to get a turnover of IDR 1 billion in 2011. And in 2013, he was able to meet the 90% turnover of IDR 1.6 billion he was pegging.
As an MSME entrepreneur, Theresia is categorized as very successful in her field. One of the keys to the success of his business is the segmentation of all three of his products. Black Elephant Coffee is preferred by the lower middle class, aka from stalls to stalls. While other brands, Lanang Luwak Coffee and Luwak Coffee Landep is a mainstay coffee product, its segmentation is based on high-end coffee connoisseurs. In fact, Lanang Luwak Coffee has always been ordered by people from abroad.
Lanang Luwak is actually a premium product that comes from the fermentation of coffee beans produced by male mongoose. Because male mongoose can release enzymes much stronger than females, the aroma that comes out is a distinctive aroma.
Likewise, with Lanang Landep, the distinctiveness of this coffee is the use of single coffee beans or lanang coffee beans, also known as pearl berries. The coffee beans are then sorted selectively. Lanang Luwak Coffee can spend 1.6 tons of coffee beans to produce. The more days the demand is increasing, even every month, he can produce tons of coffee beans to be packaged by himself. While for Lanang Luang mainstay products can be produced as much as 1.6 tons of coffee beans per day.
Theresia carried out various strategies to make her coffee business a success, and she often attended exhibitions. In fact, he innovated by making the drink, and even he had his own brand for this herb. In addition, he also created packaging that was as attractive as possible to attract customers. In fact, he already has the tools to make his own packaging.