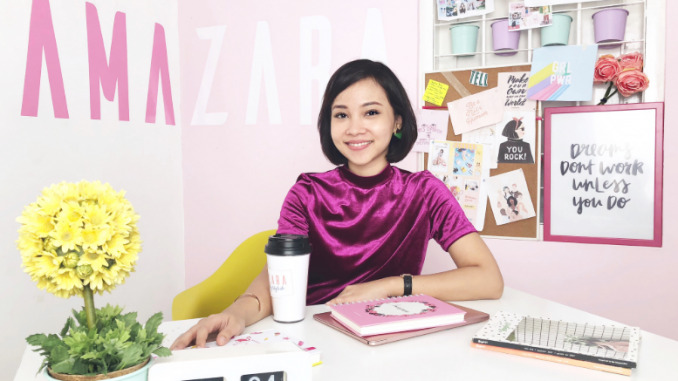 This 1991-born woman successfully plunged into a shoe business with the Amazara brand. Founded in 2015 Amazara successfully became one of the local women's specialty brand shoes with quality not inferior to well-known brands both from Indonesia and from abroad.
For the sale of women's shoes with the Amazara brand, Uma Hapsari claimed to have a large market for women in Indonesia. Even for orders, each month can reach 1,000 pairs with a total turnover reaching Rp. 100 million.
Offering the concept of high-quality shoes, but at an affordable price, the Amazara by Uma Hapsari has successfully captivated women's shoe consumers in Indonesia. Priced at a price ranging from Rp. 200 – Rp. 500 thousand, the shoes are selling well.
There are various types of shoes offered by Amazara at this time. In total there are 50 shoe variants, consisting of flat shoes, sneakers, loafers, flip-flops, and women slip-on. Uma said that product development was Amazara's main weapon to maintain the sustainability of its business. For example, he plans to launch women high heels, couple shoes, men 's sneakers, and children's shoes.
In the future, various plans have been prepared by Uma for Amazara. Among other things, began to increase the purchasing model in the number of large parties from companies or B2B. He also wants to strengthen consignment cooperation with e-commerce players and prepare the Local Genius program initiated by Blibli.com. Amazara, according to him, is also learning to adopt tools that can support productivity, where customer service officers' conversations with customers can measure the conversion rate.
Besides shoes, it also sells other fashion products. For example, for clothing products he has the Amazara Clothing brand and for Muslim clothing, he has Amazara Moslem Wear. Sales of these products are done in a consignment pattern on large e-commerce player channels (not on their own web store).