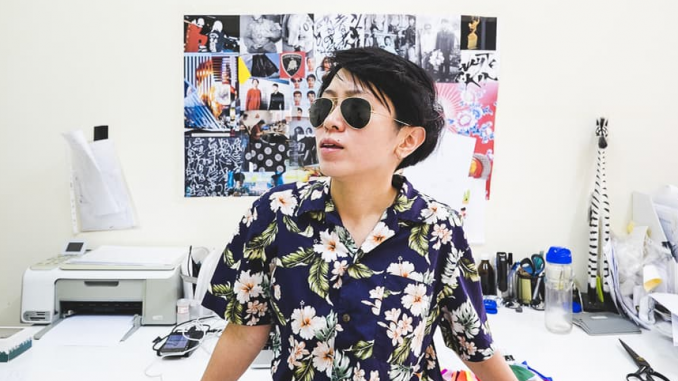 Some time ago the world of international fashion was made a scene with photos of American actor and singer Joe Jonas wearing a jacket with a bowl of chicken noodles, Indonesian money, and knick-knacks from Indonesia. Many thought that the photo was just an edit, but after tracing the jacket worn by the original Joe Jonas and what made him proud, the jacket was designed by young Indonesian designer Sherly Hartono.
Studying Fashion at the Fashion Design school, Central Saints Martin, London fashion talent designer Sherly Hartono is increasingly strained.
In 2014 Sherly Hartono returned to Indonesia to study Indonesian traditions and customs in depth as one of his design ideas. From Indonesian culture, Sherly Hatono released a men's fashion collection and one of them was the jacket design.
Unlike the majority of local fashion designers who choose a minimalist line as their distinctive feature, Sherly slips the satire elements in a casual and sporty style on various fashion. Not forgetting to touch the 1990s to make the design more stand out. Uniquely, Sherly claimed to be inspired by how to dress "brother-brother" Indonesia, especially in warungs and public transportation. He even described the work from his collection as "slouchy elegance".
In an interview, Sherly said that "older brothers" tended to wear practical and comfortable clothes because their work required them to move outdoors all day. So, don't be surprised if you find a variety of "oversized" shirts or wool pants that are too loose on Sherly's fashion collection. Precisely because the "brothers" are not too familiar with fashion, their style is also unique.
Sherly's works managed to lure one of the most famous shopping sites in America, V Files. The site is also known as the "home" of the works of designers international, such as Moschino, Kenzo, and Calvin Klein. If you are interested in buying it, Sherly sells prices starting at USD 205 or around 2.8 IDR million in his works.