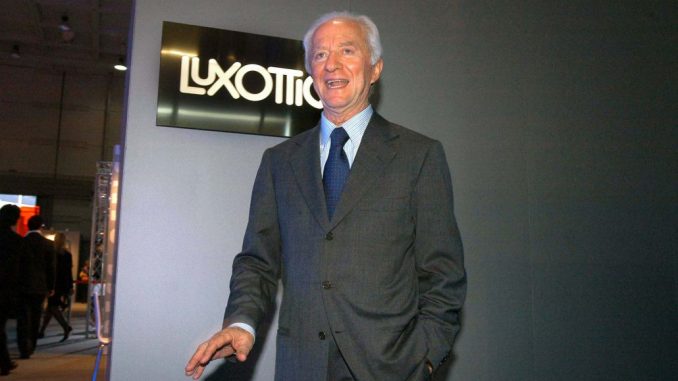 The biggest mistake for someone is if he easily gives up on the situation and does not want to try or try so that he can change to a better direction.
Being successful and successful in any field is a choice that you can get if you really want to turn it into reality and certainly not far from trying, working hard and not giving up easily.
If you see the success of doing business, have one who is sure and never gives up on any situation like that experienced by a successful businessman from Milan Italy born May 22, 1935 named Leonardo Del Vecchio.
Leonardo is one of the most successful business people in the world. The famous eyeglass brand from Italy, Luxottica, a world-famous eyewear brand that belongs to Leonardo Del Veccio.
Leonardo comes from a family that is not rich. Leonardo's father died a few months before his birth. Leonardo lived alone with his mother in an ugly hut on the edge of town.
Even so poor, the mother was not able to support who was then forced to entrust Leonardo to an orphanage. At the age of seven, Leonardo was cared for by a nun at the home. Only then at the age of 14, Leonardo began working to support his family's economy.
Leonardo worked as a trainer at an equipment manufacturer in Milan. At the workplace, Leonardo does not only work during the day.
But when night fell after a day of work, he learned a lot about industrial equipment designs. Since then Leonardo was interested in handling eyeglass frames.
Shortly after, Leonardo decided to move to Agoda, which is the center of the eyewear industry. There he began to draw and collected a lot of knowledge about glasses for six years. Then with the capital of knowledge he gained during these six years he began to focus on standing alone in the eyewear business.
Slowly but surely, Luxottica is getting bigger and expanding its business in the field of extraordinary glasses. The success of Leonardo del Vecchio in leading the company made the enlargement of the field wider. Gradually, Luxottica successfully acquired several well-known Italian brands. Lens Crafter, Porsol, Vogue, was successfully taken over by him. Even not only in Italy, the very well-known American brand Ray-Ban was also annexed.
Now, Luxottica has more than 6,000 retail stores located throughout the world. The company pioneered by a poor orphan is now transformed into the world's largest eyewear manufacturer.