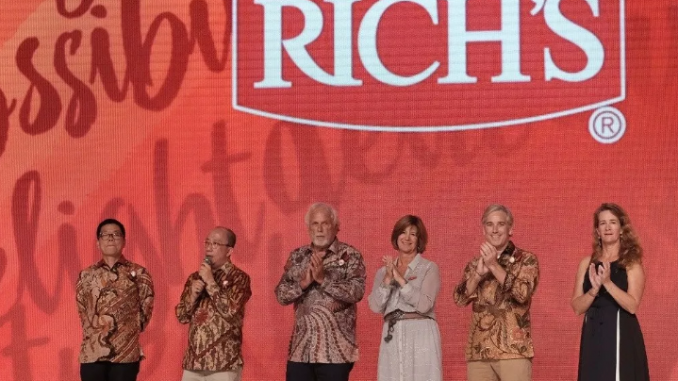 October 24, 2018, became a happy day for Rich's Product Corporation, it was because for the first time Rich's food industry company opened a factory in Indonesia precisely in Karawang Regency, Serang, Banten.
Rich's officially opened a non-dairy whip topping factory. This 2.5-hectare factory was built to meet the export market throughout the Asian and local regions of Indonesia itself.
"The opening of our factory in Serang, Banten represents our commitment to Indonesia and also builds our existing business operations in Asia, including China, India, Korea, and Vietnam. In the future, we will strive to continue to build relationships with the Indonesian workforce and society, as well as help drive economic growth in Indonesia, "said Ted Rich, Senior Vice President of Rich Products taken from swa.co.id.
With the opening of Rich's factory which produces non-dairy topping in Karawang, it will certainly open up new jobs for workers in Indonesia, especially in Karawang.
"Rich's global size and capabilities will be brought to the local level to help improve the skills of the local workforce and also to realize ideas and create innovation for customers. With the opening of our new plant in Indonesia, we hope to support the local market, the economy and the population of Serang, Banten as a whole. I will make sure to recruit 100% of Rich's workers at the Banten factory from the Indonesian people, "Eddy Chan, President of Rich's Southeast Asia, Australia & New Zealand said taken from swa.co.id
Rich's offers a wide selection of non-dairy whip topping products for its customers, including Avoset Pour N 'Whip for foodservice operators and Rich's Gold Label, which is the most popular product among local bakery and bakery shops, among other product choices.
Food companies that have been established 70 years ago are already well-known as old players and dominate the global market as a food company that concentrates on making a cake and topping ingredients.
One of the reasons from Rich's opening of his factory in Indonesia is because indeed in Indonesia the business scale of cakes and bread is very large and it is certain that almost every city exists. In addition, according to Bob Rich Company, Chairman of Rich's Indonesia has its own characteristics with the related industrial sectors that are so fast developing such as the tourism industry, hospitality and culinary.