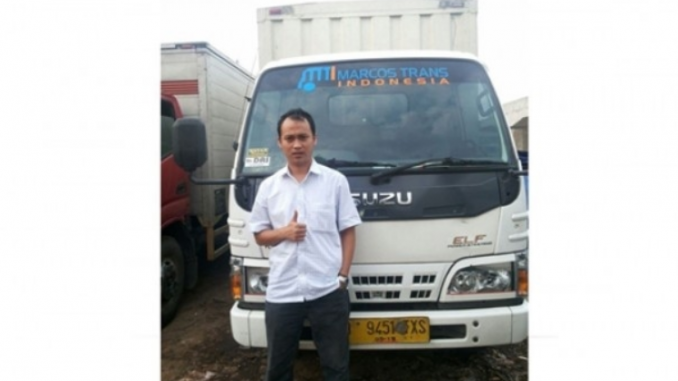 See business opportunities is the key to the success of Marcus Nasution who sees business opportunities in the logistics sector that focus on working on supermarket chains in Indonesia.
The 31-year-old man from Padang Sidempuan successfully became a businessman in the field of transportation services by bringing his company PT Marcos Trans Indonesia, which focuses as a freight forwarding company from retailers' warehouses that do not have a logistics fleet to be brought to their outlets.
The opportunity for the distribution of goods from the retailers' warehouse to the outlet network turned out to be very promising. The fact is that the larger the supermarket and the rapid spread in the regions, not all supermarkets have their own logistics fleet, so they use shipping services. Understandably, retailers' businesses focus on the retail sector, not in the logistics sector. This opportunity was captured by Marcos so that he successfully became a partner of several large supermarkets in Indonesia such as Hero, Lion Superindo, Farmers Market / Ranch Market, and Carrefour.
From one unit of six-wheeled trucks, Marcos can add up to seven trucks in 2013. This is inseparable from the development of the retail business in the country that continues to grow. As long as the supermarket business develops, the business will go up.
Moreover, retail entrepreneurs must have the target of opening new outlets. Currently, he has 29 six-wheel box trucks as his main fleet. Marcos's box truck is chosen because it can make cargo safer stored because it is tightly closed and neat. This, of course, can make the delivery of goods avoid the brunt of the rain plus the process of loading and unloading faster.
The company also places a technical team that will monitor the condition of each unit of the truck fleet. If the shipment of goods is crowded, the company can serve as many as 35 shipments of up to 40 deliveries a day for the Jabodetabek area. If that's the case, he will rent additional trucks to help with shipping operations. The turnover can reach IDR 300 million to IDR 400 million per month.